July 18, 2023 20:00
The Great Hall
A Concert Performance of the Opera "Notre-Dame de Paris"
The ninth Jūrmala Festival, the grandest musical event of the summer, will take place with ten magnificent concerts from 15 to 23 July at Dzintari Concert Hall, bringing together outstanding Latvian and foreign musicians.
On 17 and 18 July, the audience will have a unique opportunity to hear a concert performance of the iconic opera "Notre-Dame de Paris" by Zigmārs Liepiņš. The opera by Zigmārs Liepiņš once became a symbol of Latvian opera music, and its staging at the Latvian National Opera was a huge success and was performed 96 times. The CD version of the opera became the most sought-after recording of Latvian opera music.  Zigmārs Liepiņš' heartbreaking music, Esmeralda and Quasimodo's tragic love story tell us about the unbreakable power of the spirit and the ability to love beyond boundaries.
Author of the libretto – Kaspars Dimiters.
Participants:
Ilze Grēvele-Skaraine (Esmeralda)
Dons (Quasimodo)
Edgars Ošleja (Claude Frollo)
Ieva Parša (Gudula)
Rihards Millers (Gringoire)
Evija Martinsone (Fleur De Lis)
Krišjānis Norvelis (Clopin/Hangman)
Artjoms Safronovs (Phoebus)
Daniils Kuzmins (Jupiter/Bailiff)
Kalvis Kalniņš (Coppenole)
Jūrmala Festival Orchestra
Jūrmala Festival Choir
Conductor Mārtiņš Ozoliņš
Creative team:
Director Dita Lūriņa-Egliena
Set designer Inga Bermaka
Costume designer Agija Vismane
Choreographer Artūrs Nīgalis
Lighting designer Māris Sējāns
Choir:
Eduards Rediko (The Blind)
Uga Gundars (Rack-like)
Ralfs Puzāns (Spider-like)
Emīls Gilučs (Second man)
Vaida Vovere (Second woman)
Katerīna Olekte
Lote Voiska
Elīza Ķirse
Zane Lazdiņa
Kate Kokamegi
Elīza Kurševa
Renāte Rožkalne
Daniels Pelnēns
Jēkabs Krists Kalniņš
Maija Beatrise Punka
Patriks Jānis Tabaks
Kārlis Mūrnieks
Mariss Daniels Ķirsis
Evelīna Apine
Katrīna Altenburga
Beate Megija Baranovska
Dancers:
Ģirts Bisenieks
Imants Ilgažs
Anastasija Čornaja
Lelde Beate Kuzņecova
Concert managers:
Ilze Ozoliņa
Evelīna Jēkabsone
Approximate duration of the concert: 3 hours 30 minutes
The project is co-financed by REACT-EU funding for mitigating the consequences of the pandemic crisis.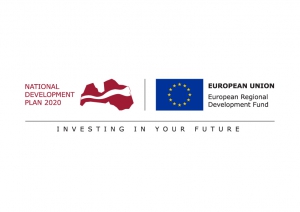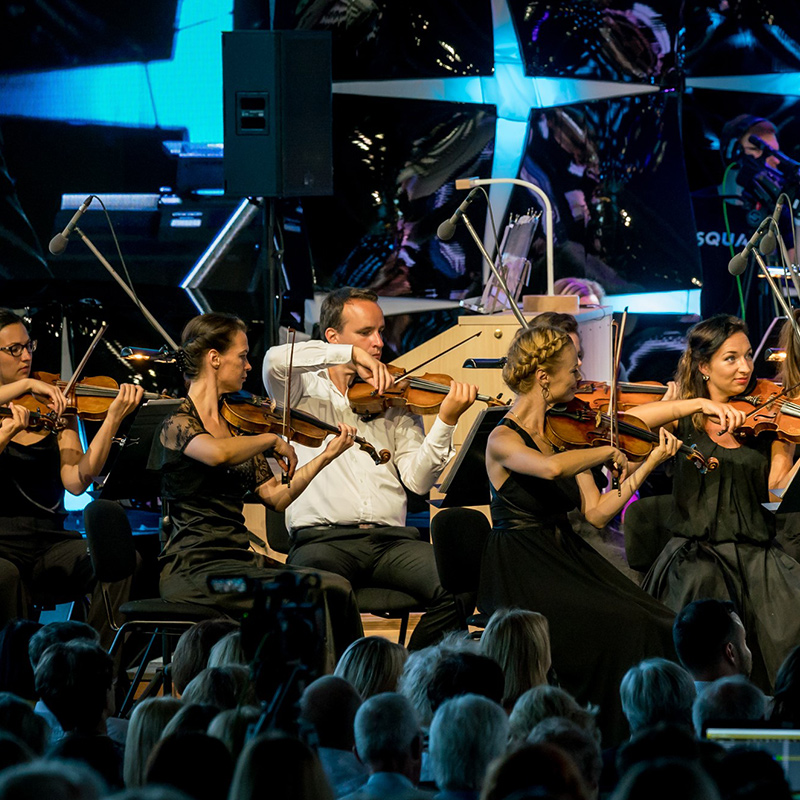 Jūrmala festival orchestra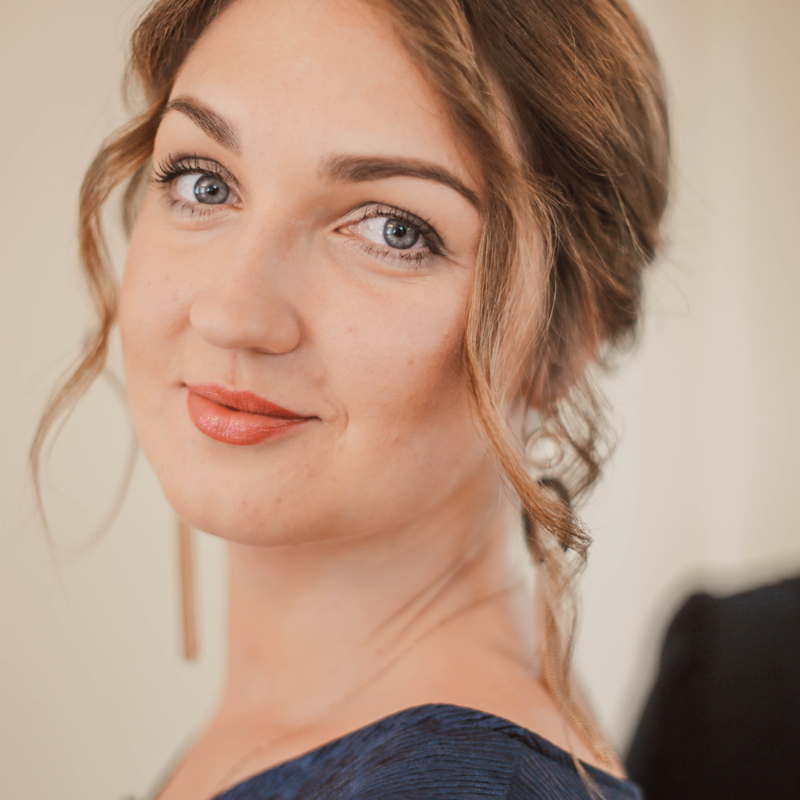 Ilze Grēvele-Skaraine
Esmeralda
Soprano Ilze Grēvele-Skaraine studied opera performance at the Jāzeps Vītols Latvian Academy of Music, most recently under Rinalds Kandalincevs, and at the Koninklijk Conservatorium (Royal Conservatoire, NL) as well as the Lithuanian Academy of Music and Theatre during the ERASMUS exchange programme. Ilze has collaborated with conductors Atvars Lakstīgala, Māris Kupčs, M. Chance, Peter Van Heyghen, Māris Sirmais and the State Choir LATVIJA, the RIGA Professional Symphonic Band, the Netherlands Professional Bach Chamber Choir, the Liepāja Symphony Orchestra and others. For several years, she was a soloist of the international early music ensemble Le Voci delle Grazie (NL). As a soloist she has performed on stages in Latvia, Estonia, Lithuania, Denmark, Italy, Russia, France and the Netherlands.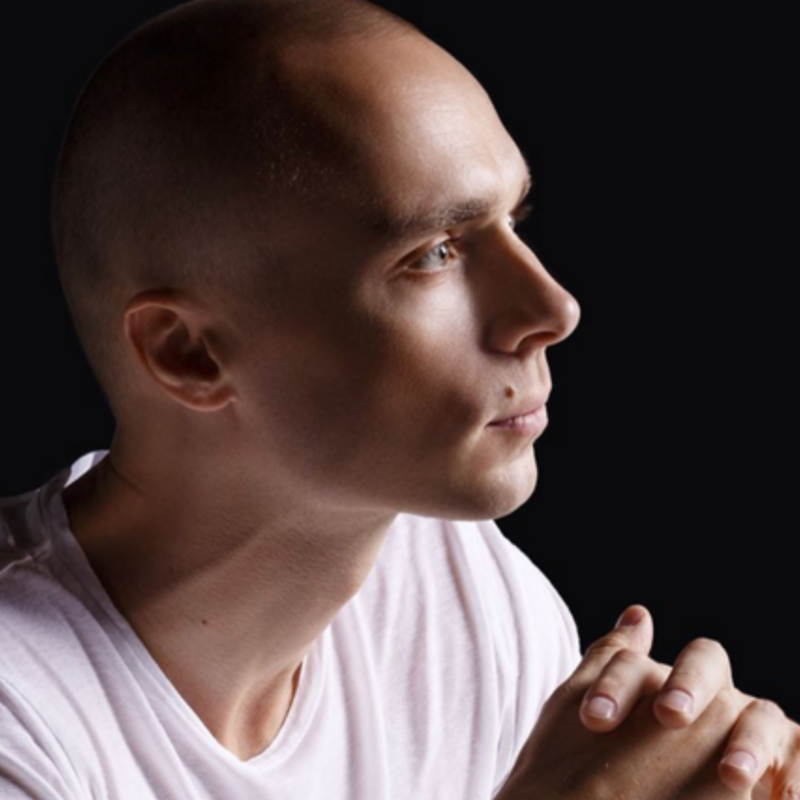 Artūrs Šingirejs (Dons)
Quasimodo
Musician Artūrs Šingirejs (Dons) is one of the most popular contemporary artists in Latvia. He has released eight solo albums and has several musical awards to his credit - he won four times in the Latvian Radio Music Bank nomination "Song of the Year" and six times received the Latvian Music Record of the Year award in the nomination "Rado Hits". The musician has also received two Latvian Music Records of the Year awards for the best pop music album and one award for the best rock music album. In 2021, Dons started working with Universal Music Group.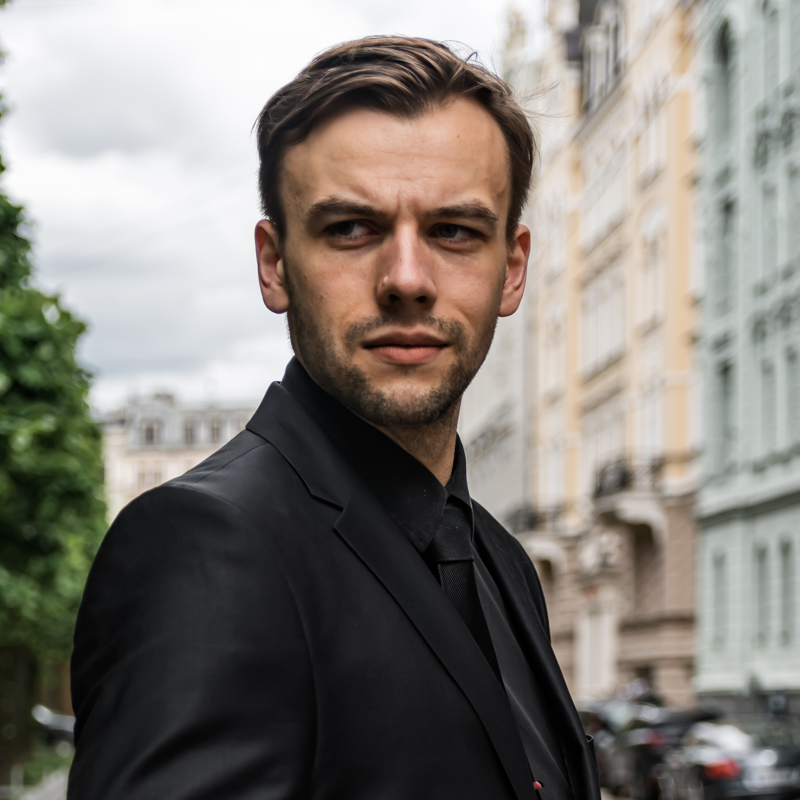 Edgars Ošleja
Claude Frollo
Edgars Ošleja made his debut on the stage of the Latvian National Opera in 2015. Among the roles he has interpreted for the LNO are Sarastro in the Little Magic Flute, Reinmar von Zweter in Tannhäuser, Colin in La bohème, the Blind Man in I Played, I Danced, the Keeper of the Madhouse in The Rake's Progress, and the White Priest in Turandot. In February 2020, Edgars Ošleja made his debut, as Colin in La bohème, on the stage of the Prague National Opera where he proceeded to sing Angelotti in Tosca, Banquo in Macbeth, the High Priest in Nabucco and Pharaoh in Aida. Ošleja has performed in concerts of academic music at the Sigulda Opera Music Festival, Riga Latvian Society House, Riga Anglican Church, and elsewhere. Accompanied by the Prague Opera Orchestra, he has sung the bass solo in Beethoven's 9th Symphony. In 2021, he took part in the premiere of Imants Kalniņš's opera Matīss, kausu bajārs.  Ošleja's repertoire includes arias and songs by Kaldár, Tchaikovsky, Handel, Verdi, Mozart, Prokofiev, and other composers.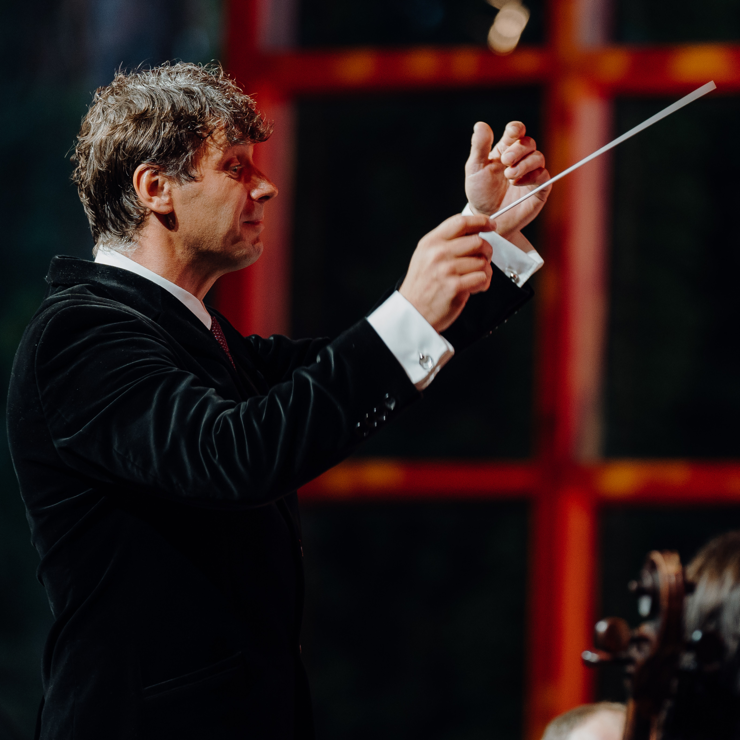 Mārtiņš Ozoliņš
Conductor
Mārtiņš Ozoliņš is the Chief Conductor of the Latvian National Opera and Ballet and an Associate Professor at the Jāzeps Vītols Latvian Academy of Music. He is the winner of the prestigious IV International Jorma Panula Conducting Competition. He debuted at the Latvian National Opera in 2003 conducting Giuseppe Verdi's opera Nabucco. Mārtiņš Ozoliņš has led many performances of ballets and operas, gala concerts and choral symphonies, and been the Music Director for most of the Latvian National Opera and Ballet's new productions and renewals of previous work. The conductor has collaborated with many international orchestras: the Latvian National Symphony Orchestra, the Leipzig Gewandhaus Orchestra, Lithuanian National Symphony Orchestra, the Orchestra of the Teatro Lirico Giuseppe Verdi in Trieste, Catania Teatro Massimo Bellini Opera Orchestra, Orchestra Sinfonica Siciliana, the Tampere Philharmonic Orchestra, Lithuanian State Symphony Orchestra, the Georgian State Opera Orchestra and the Hong Kong Sinfonietta, among others.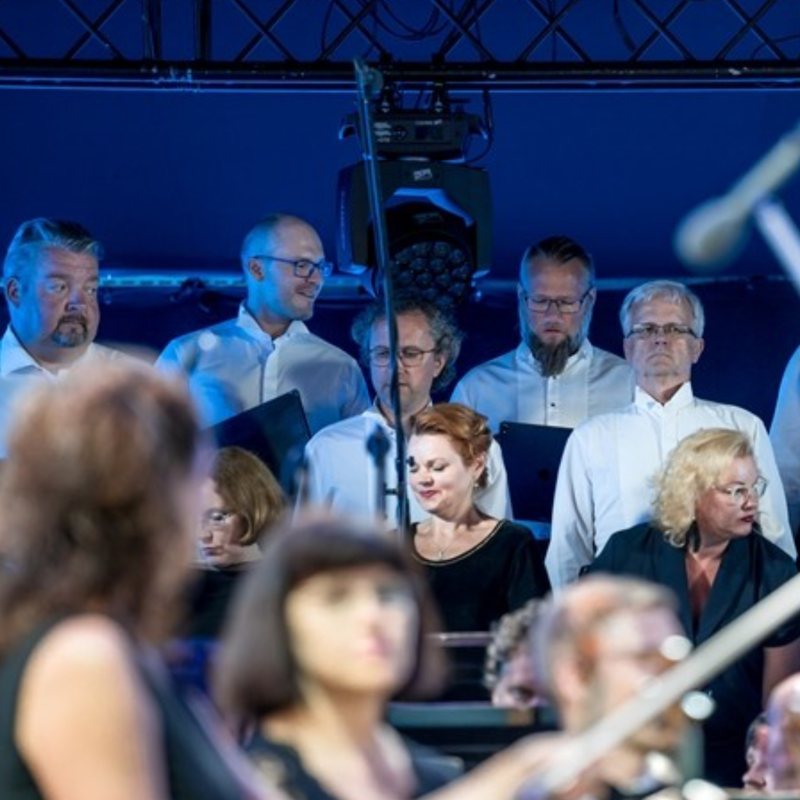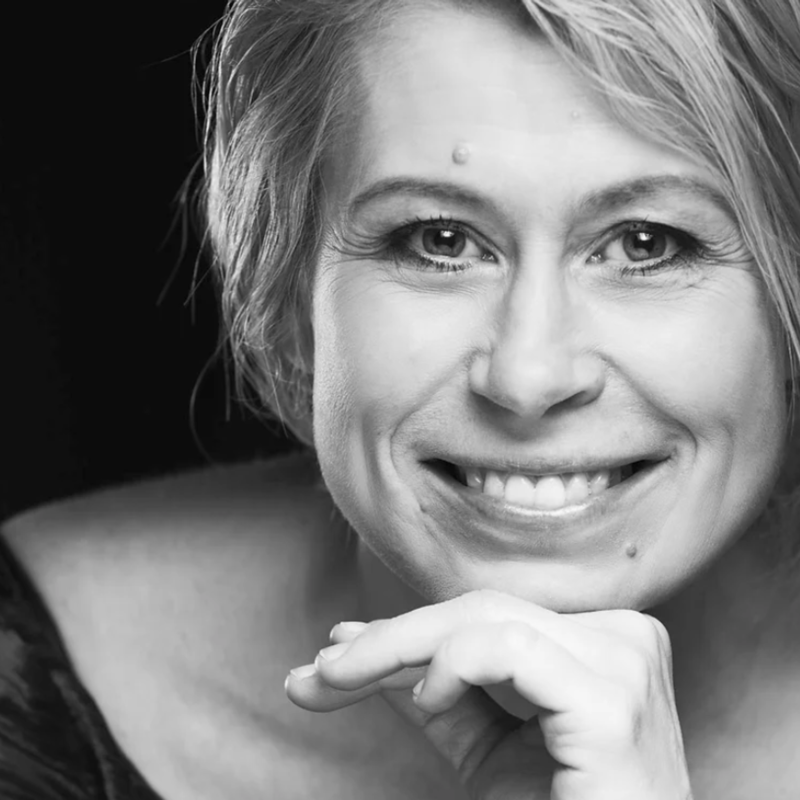 IEVA PARŠA studied choral conducting at the Jāzepa Vītola Academy of Music with prof. Jānis Dūmiņš, obtaining a bachelor's degree (1995), and vocal art with prof. Ludmila Brauna (1996-1998) and in the chamber ensemble class of Maija Krīgena and Pēters Plakids (1998-2000). In 2003, she obtained a master's degree. Many works by Latvian composers, including Andris Dzenītis, Mārīte Dombrovska, Gundega Šmite, etc., have been dedicated to the voice of Ieva Parša. Parša has participated in various performances of large-scale vocal-instrumental works, specializing in interpretations of baroque and contemporary music. One of Ieva Parša brightest artistic expressions is the genre of chamber music. Her work was particularly bright as the author of the cycles "Schubertiade", "Vocal Music of the XX Century" and "At the Piano". The singer is praised for her refined sense of style, as well as her excellent ability to interpret 20th century music. Ieva Parša received the Latvian Music Award (2008) for solo songs by Latvian composers and especially experimental lyrics.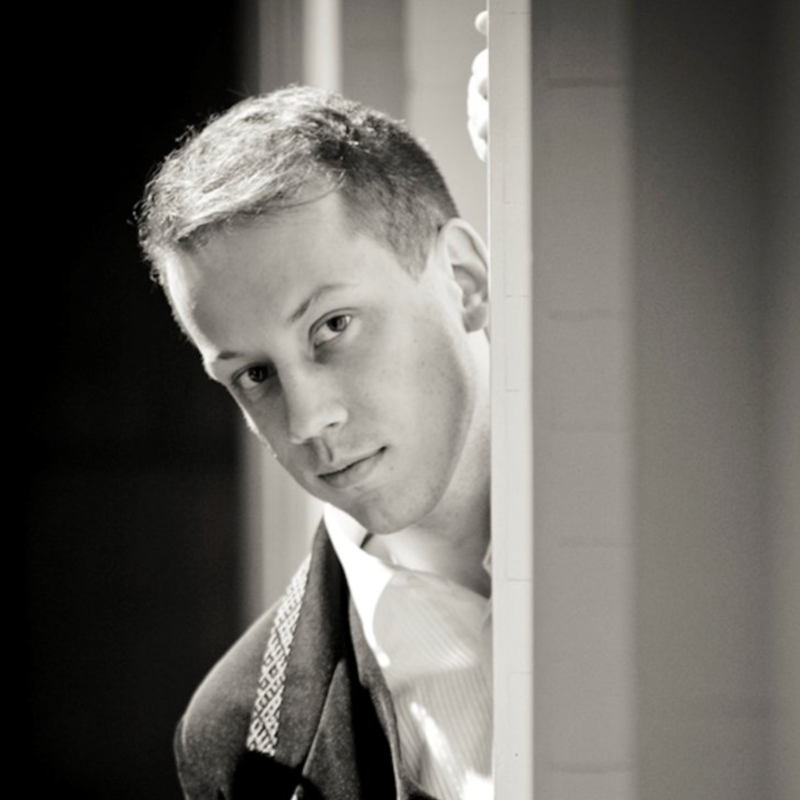 Rihards Millers
Gringoire
The Latvian baritone, Rihards Millers, began his vocal studies in 2005 at the Ventspils Music School with Aivars Krancmanis, graduating in 2009. From 2009 to 2013 he studied academic singing at Jāzeps Vītols Latvian Academy of Music with vocal teachers Anita Garanča and Krišjānis Norvelis. In 2011 and 2012 he was an ERASMUS exchange student at the St Cecilia Academy of Music in Rome where he perfected his vocal mastery with Anna Maria Ferante. He is currently continuing postgraduate studies in opera singing at JVLMA with Krišjānis Norvelis. In 2012 and 2013 alongside his studies at JVLMA Rihards enrolled at the Academy of Latvian National Opera and was awarded the Boris and Ināra Teterev Foundation scholarship. He has participated in a number of ENOA (European Network of Opera Academies) masterclasses in Latvia, Portugal and France. In addition to the above mentioned vocal teachers, he has studied with Lieve Jansen and Joy Mammen.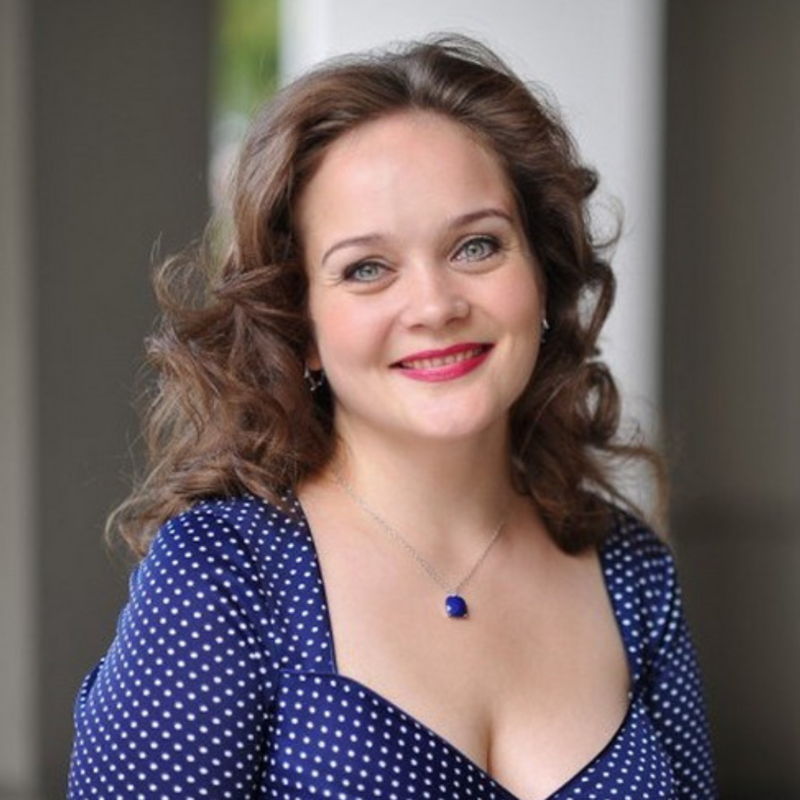 Evija Martinsone
Fleur De Lis
Evija Martinsone graduated from the Jāzeps Vītols Latvian Academy of Music, class of Prof.Anita Garanča in 2004. In 2006, she received her Master degree in vocal music, opera singing profile. She has attended master-classes with Margreet Honig, Barbro Marklund-Petersone, Stuart Stratford and Paolo di Napoli as well as Master-classes in performing Arts with Prof.Anna Eižvertiņa and Prof.Pēteris Krilovs. During her studies she took active part in Opera Studio Figaro under the baton of Prof.Viesturs Gailis. Evija Martinsone made her debut at the Latvian National Opera as Galatea in Handel's Acis and Galatea in 2005. For this role the singer was nominated for the Best Debut of the Year in Performing Arts award. Since 2007, she is a lecturer at the Latvian Academy of Music. She won the Paul Sakss Award in 2007. Evija Martinsone has performed soprano parts in Handel's Messiah, Bach's Weinacht's Oratorium, St.John's Passion, St.Matthew's Passion and St.Marcus Passion, Pergolese's Stabat Mater, Mozart's Requiem and Missa c-moll, Vivaldi's Gloria and others. Her current repertoire includes Mozart's opera roles like Pamina, Barbarina and Zerlina, Morgana in Handel's Alcina and Almirena in Rinaldo, Giannetta in Donizetti's L'elisir d'amore, Narcisa in Haydn's Philemon und Baucis and Nerina in Rameau's Les Paladins. Evija Martinsone has recieved Latvijas Gāze Annual Opera Award as a Best Female Soloist (2012). www.opera.lv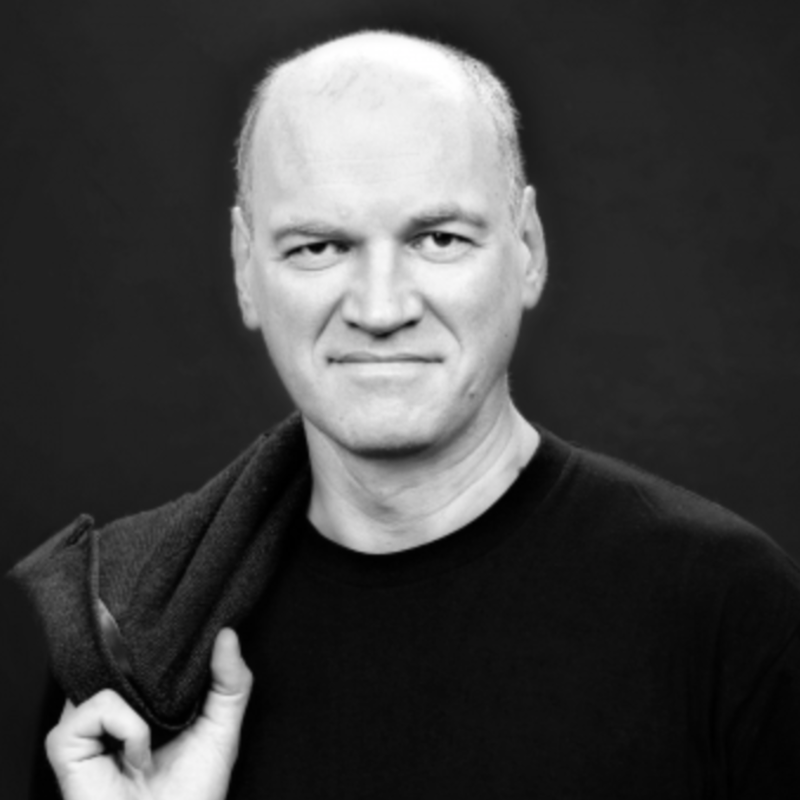 Krišjānis Norvelis
Clopin/Hangman
KRIŠJĀNIS NORVELIS graduated from the Latvian Academy of Music in 1998, and improved his artistry under tutors in Austria and Italy. Since 1997 he is a soloist of Latvian National Opera. At 1998/1999 with Herbert von Karajan scholarship he resided at the Vienna Staatsoper. Krišjānis Norvelis is a prize winner at the International Jāzeps Vītols Singers Competition in Riga (1999) and the Aldaris Annual Award (2002). His most notable roles include Noye in Britten's Noye's Fludde, Dulcamara in Donizetti's L'elisir d'amore, Don Alfonso in Mozart's Cosi fan tutte, The Commendatore and Leporello in Don Giovanni, Sarastro in Die Zauberflöte, Colline in Puccini's La Bohème, Timur in Turandot, Bartolo and Don Basilio in  Rossini's Il barbiere di Siviglia, Prince Gudal in Rubinstein's The Demon, Daland in Wagner's Der fliegende Holländer, The Grand Inquisitor in Verdi's Don Carlos, Ramfis in Aida, Sparafucile in Rigoletto, Boris Izmailov in Shostakovich's Lady Macbeth of Mtsensk and Figaro in Mozart's Le Nozze di Figaro. He has participated at the Opera Festival in Bregenz, at the festival Basses of the XXI Century in Samara; regularly takes part in performing of large scale pieces and has given recitals in Latvia and Austria.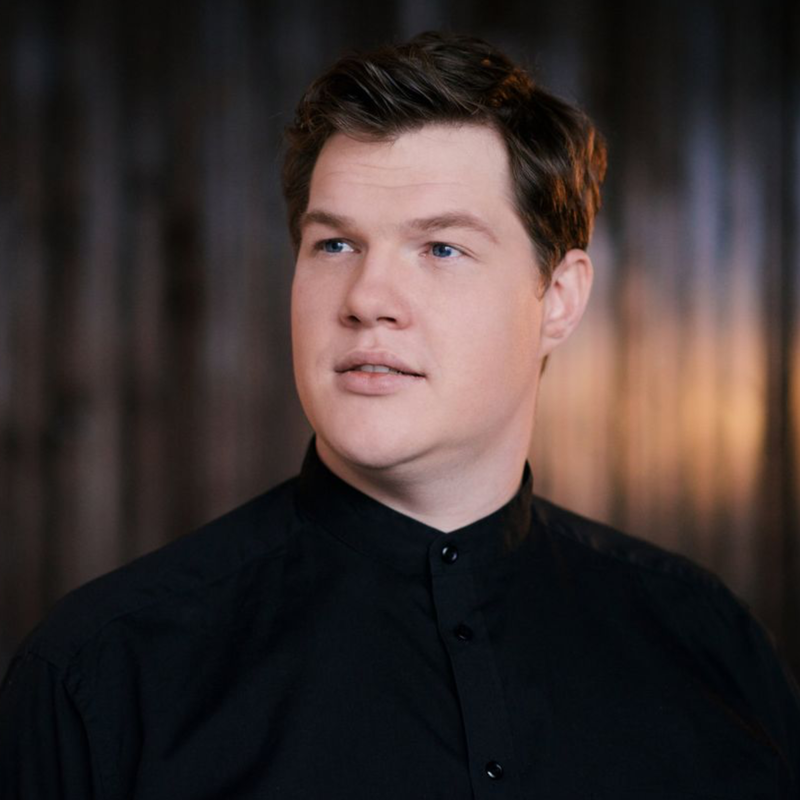 Artjoms Safronovs
Phoebus
Tenor Artjoms Safronovs was born in Latvia, since 2020 he has been a soloist of the Latvian National Opera. In 2009, he graduated with honors from the Russian Gnesin Academy of Music, in 2012 he graduated from the post-graduate course of P. Tchaikovsky Moscow State Conservatory, from 2011 he sang in the Moscow Academic Musical Theater.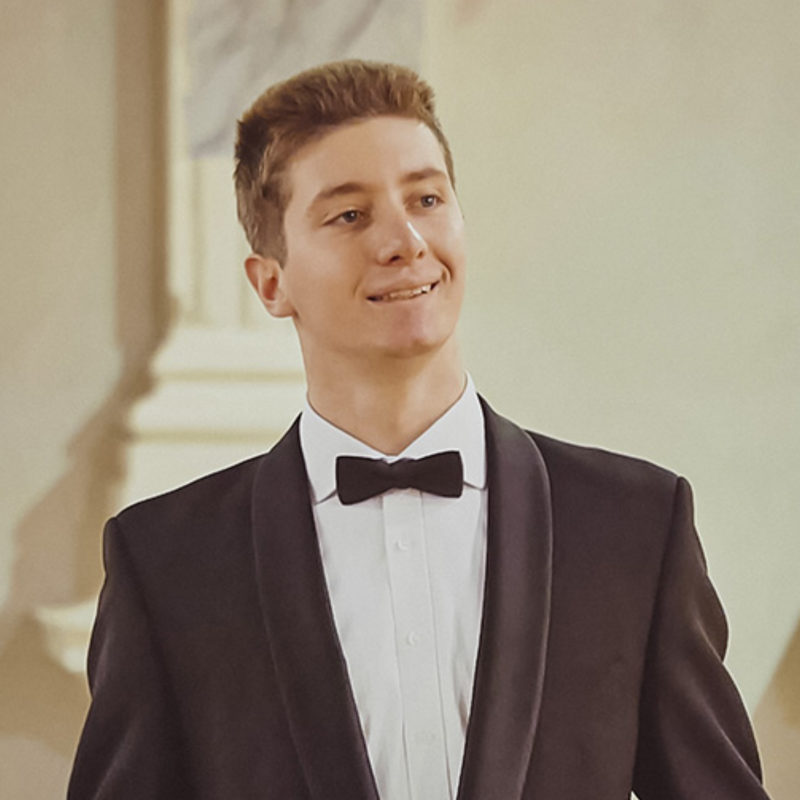 Daniils Kuzmins
Jupiter/Bailiff
The young baritone Daniils Kuzmins has recently graduated from the vocal department of the Jāzeps Vītolas Latvian Academy of Music. Daniils is a three-time laureate of the "Kaunas Sonorum" international competition for young musicians, a graduate of the Elena Obazcovas international competition for young vocalists, last year he won 2nd place in the Latvian talent competition "Ineses Galantes talanti", and has successfully participated in several vocal competitions in Latvia and abroad.
Dita Lūriņa-Egliena
Director
Actress of the Latvian National Theater since 2000. A perfect sense of different acting styles, feminine intuition and a sharp mind, a fantastic soprano and lyrical temperament, stage charm and artistry - all this has helped Dita Lūriņa become one of the leading Latvian actresses. But Dita, being a child of the theater and aware of its capricious nature, is able to shine even in episodes without grumbling, although in her prime years it may not seem like a fruitful time of her life, so in parallel with her work as an actress, Dita is looking for her own path and handwriting in directing.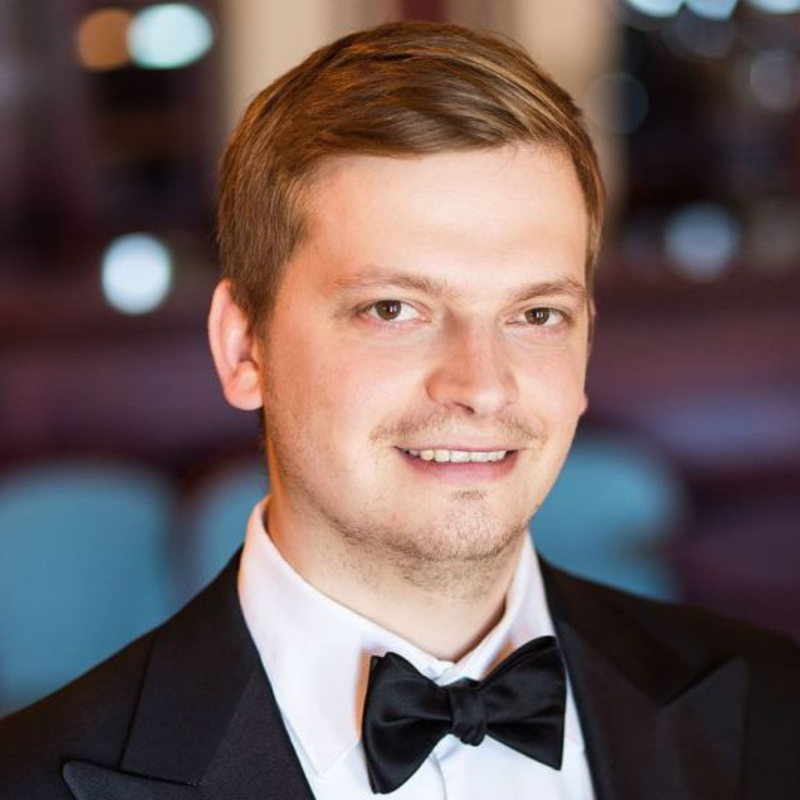 Kalvis Kalniņš started his vocal studies in 2009 at the Jāzeps Mediņš Riga Music High School in the class of Krišjānis Norvelis, which he graduated with distinction in 2013. During this training period, he has been the laureate of several local and international competitions. He continued his studies at the Jāzeps Vītolas Academy of Music of Latvia, where he obtained a bachelor's degree in the class of Krišjānis Norvelis, and a master's degree in the class of Angela Goba. Studied at the Vienna Academy of Music and Arts under professor P. Edelman. He made his debut at the Latvian National Opera as a soloist in the ensemble of soloists in G.F. Handel's oratorio "Messiah". Made a successful debut in Finland in V.A.Mozart's opera "The Marriage of Figaro" as Count Almaviva in the production of the Helsinki Sibelius Academy of Music Opera Studio. Kalvis Kalniņš has developed a strong collaboration with vocal teacher Margarita Gruzdeva, with whom the singer is currently learning vocal skills.